Petrochemical enterprise equipment management under the view of Big Data.



The wide application of the Industrial Internet has helped Chinese industrial enterprises improve the management of key equipment, increase the operating time of equipment, and reduce the cost of equipment maintenance. RONDS wireless condition monitoring system has come into the market since 2010. RONDS has keeping improve the wireless sensors, the 4th generation wireless sensor was launched in 2019. A new type of more intelligent wireless sensor will be released within 12months to help more customers to manage their equipment efficiently and intelligently.

The annual oil consumption of China is 651 million tons, which is the largest in the world. The safe and stable operation of the production equipment is essential for petroleum refining and petrochemical enterprises. Their most common equipment -- pumps, are constantly transporting high-temperature, flammable and explosive hot oil. Once a mechanical failure occurs, it will not only affect the continuity of production, but also have potential safety hazards. The daily management of these pumps is an important job for maintenance staff. The off- route inspection is no longer sufficient for equipment maintenance. RONDS wireless condition monitoring solution replaced the repetitive and rigorous manual data acquisition work, allows equipment management staff to focus on the machine condition change and fault analysis. It helped petrochemical enterprises to improve their efficiency and quality of equipment management.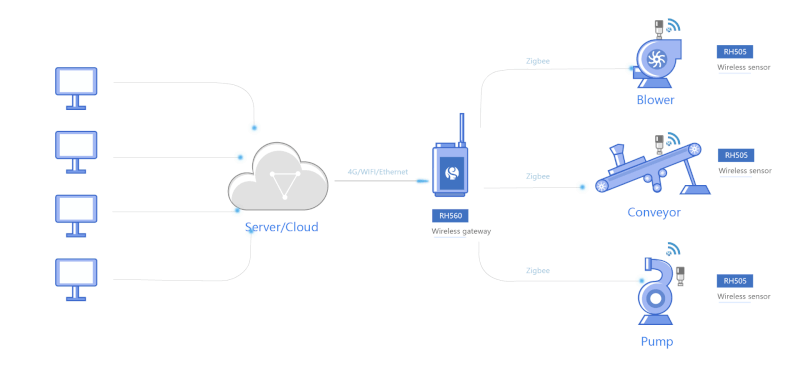 Since 2010, RONDS condition monitoring system has entered into petrochemical enterprises. At present, we are monitoring 12,166 units key equipment of petrochemical industry, totally installed 28,010 sensors on site, it helped customers to detect over 1,066 potential faults. With a lot of positive feedback from customers, the business performance of petrochemical industry has experienced a blowout growth.

In the process of analyzing these cases through big data method, we got some significative results.

A petrochemical company in South China

XX Petrochemical is one of the largest state-of-the-art petrochemical enterprises in South China. It currently has an annual processing capacity of 13.2 million tons of crude oil, 220,000 tons of ethylene, and 50 units of key petrochemical production equipment.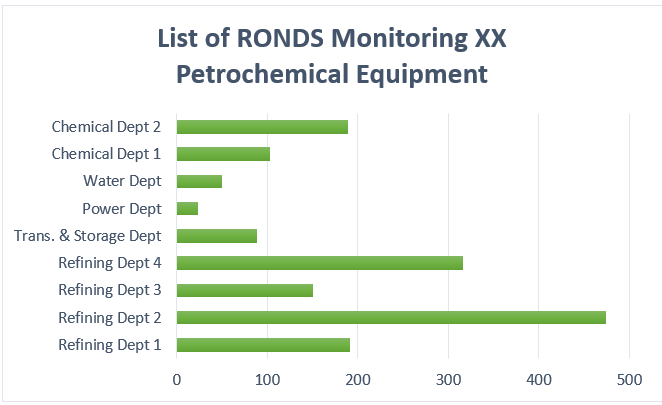 334 machines had been monitored in this enterprise since August 2018. The good monitoring results had enabled more than 1,200 units to be monitored in January 2019. Then more than 30 units have been added according to site demand.
Currently, this petrochemical company has 1,567 machines monitored, involving 9 operating departments.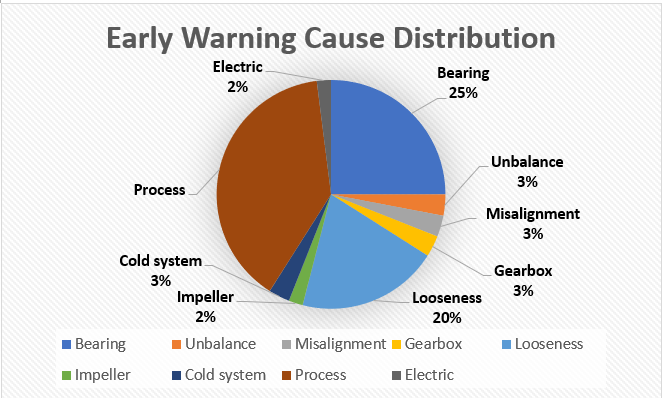 After the pump group monitoring system was put into use, there were totally 976 alarms and 233 on-site overhauls. Among the 976 alarms, 39% were related to process flow, 25% were related to bearing failures, and 20% were related to looseness. Other alarms include electricity, cooling systems and gear failures.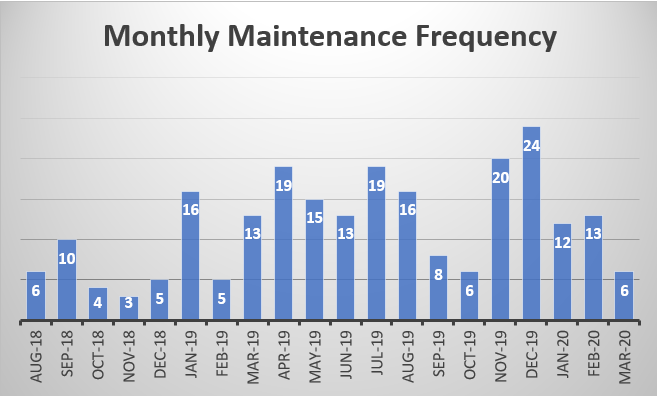 The 233 on-site overhauls were mainly concentrated in March to August 2019. 4 cases failures of them were found at night and 6 cases are belong to sudden rapid deterioration.

In the guidance of on-site maintenance, bearing failures accounted for 35%, including motors, pumps, fans, and gearboxes. Other failures include working frequency failures, couplings, gears, and imbalances etc.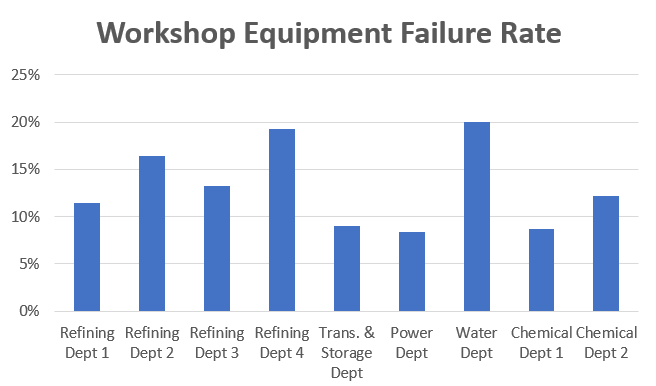 By comparing the equipment failure rates of different workshops, we can clearly see the equipment management level of each workshop.

For those equipment with frequent alarms and frequent maintenance, it can effectively find out the current equipment management situation, analyze the root cause of the actual problems, and improve the level of field equipment management.

Root case analysis case:

The K7104 fan in the S-ZORB equipment of the 4th. refinery department experienced two rapid increases in vibration velocity values on February 23 and May 5, 2019. It was judged by the time waveform and frequency spectrum that it is a coupling failure.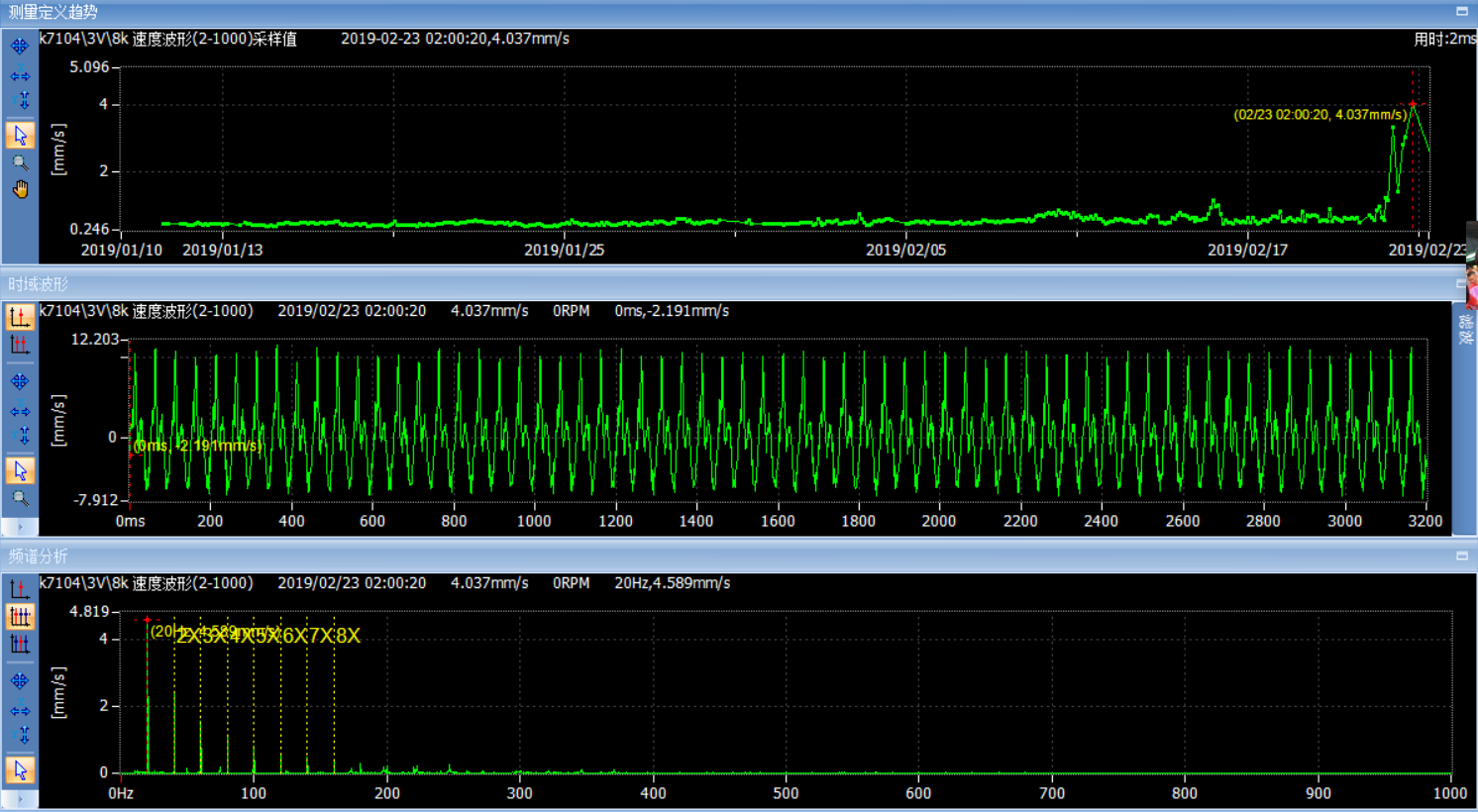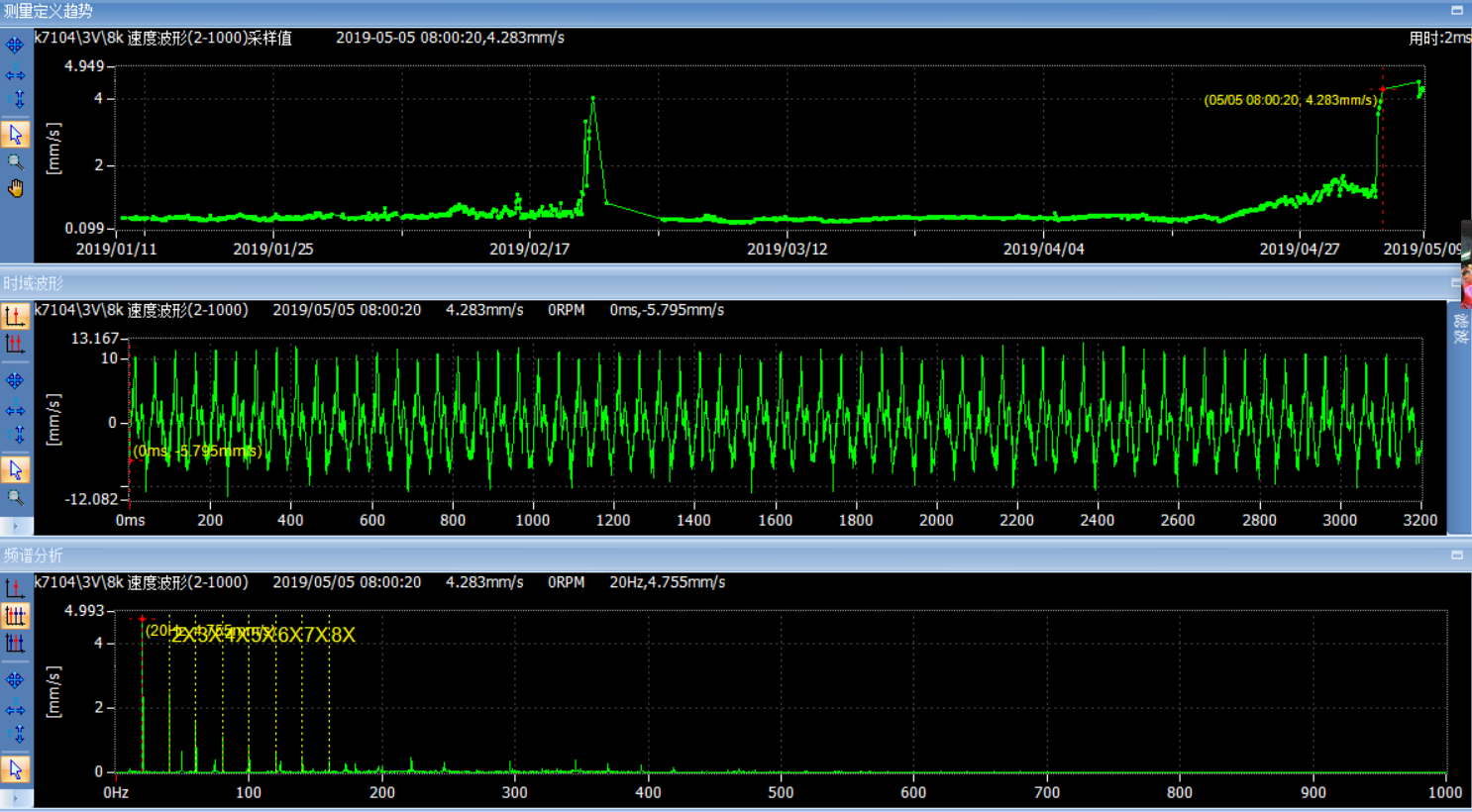 From the overhaul photos, it is consistent with the diagnosis conclusion. There were two identical cases in such a short period of time, and we carried out a root cause analysis.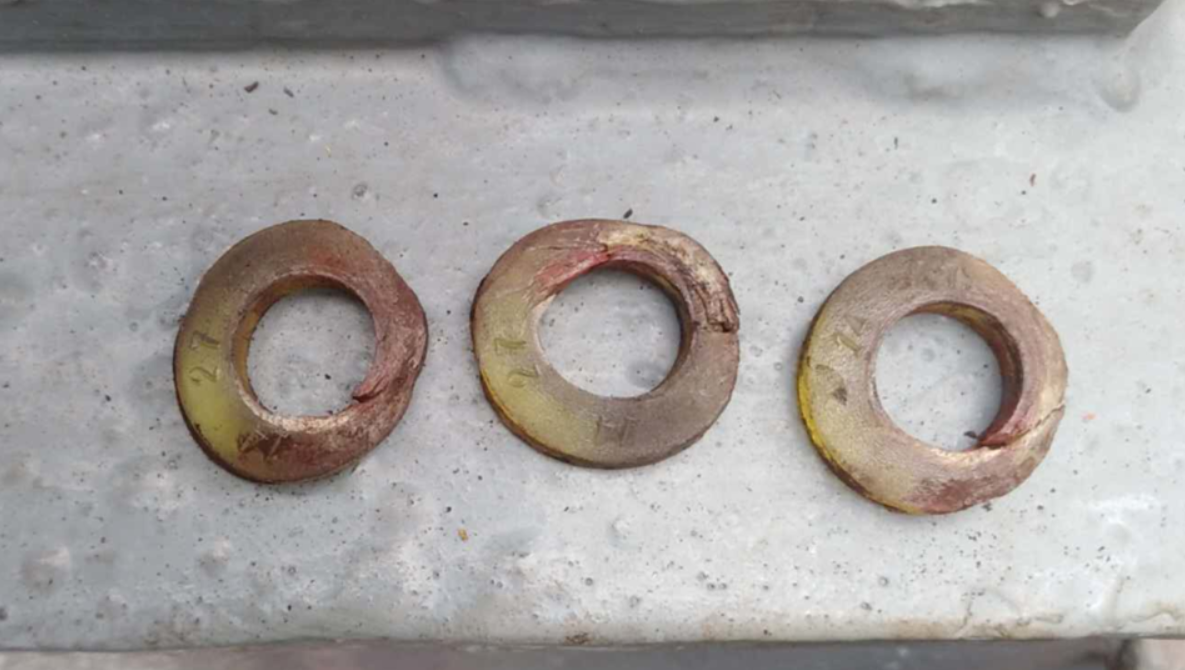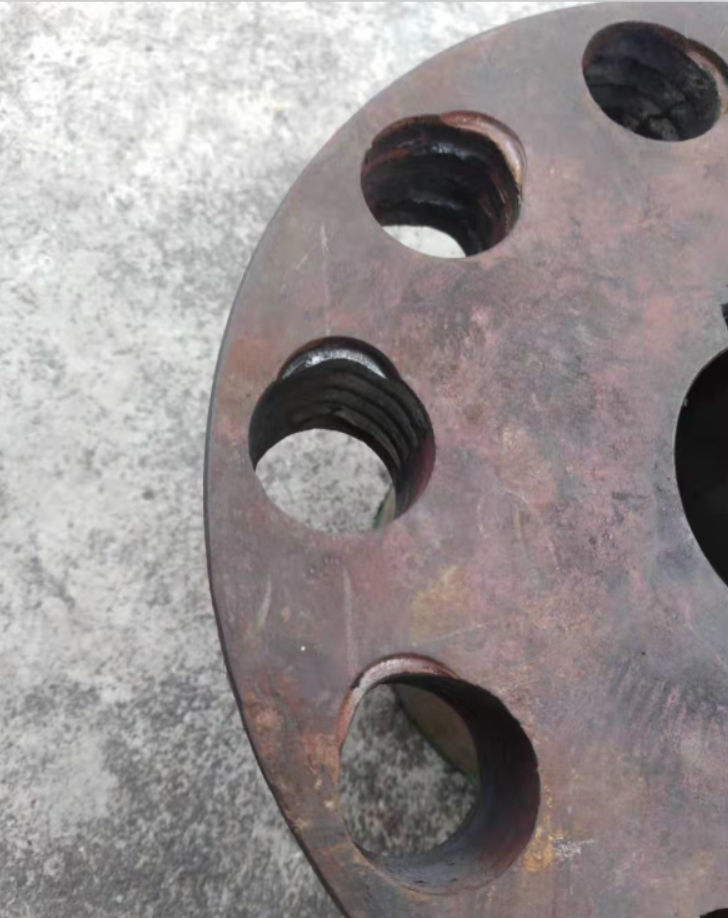 After the first overhaul, the alignment of the machine is still poor. It is recommended to make alignment on site during the second overhaul. The machine is currently running smoothly.

Credit: Kiki Xie, Overseas Marketing Director, Anhui Ronds Science & Technology